Porcelain crowns/dental crowns are used to restore a tooth by using natural looking, and feeling, materials. They are generally used when damage, or decay, is so extensive that filling materials won't be strong enough to fix the tooth.
Dental Crowns are a strong cap which is placed over a damaged tooth in order to restore strength, function, and aesthetics. It does this by reinforcing the underlying natural tissue. A dental crown restores functionality by allowing bite pressure, similar to that of natural teeth.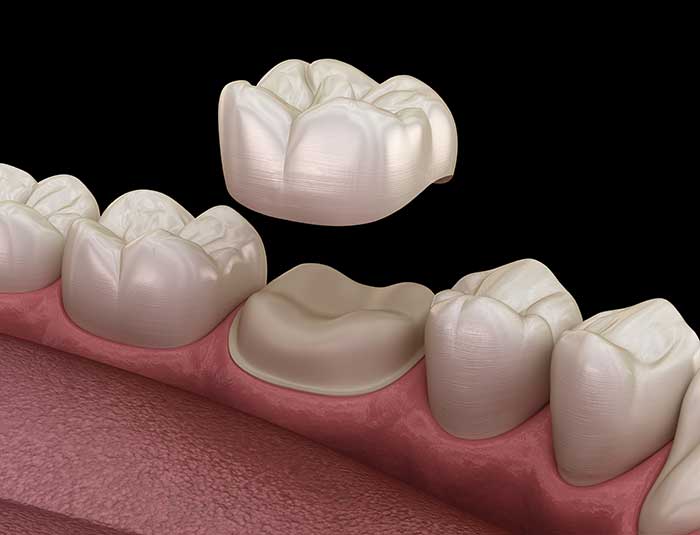 When are Porcelain Crowns Needed?
The placement of a porcelain crown might be required for a variety of reasons, but will generally fall within these categories:
1. To restore a tooth to its original shape. Often when teeth are worn or fractured, crowns can be used to place over the compromised tooth, to give it a more appealing shape.
2. To strengthen a tooth (especially after a root canal treatment). Teeth that have lost a lot of tooth structure, whether it be due to previous treatment or trauma, often require a crown for extra support and stabilisation.
3. To improve the cosmetic appearance of a tooth. Dental crowns can be used to place over discoloured teeth to change the colour of the tooth, and improve the smile.
What Materials are Used for Crowns in Lara?

There are a variety of materials that can be used for dental crowns in Lara, these include:
1. Metal Crowns – In the past, metal crows were popular, as they are very strong and allow for very minimal preparation of the underlying tooth. The downside of metal crowns is their silver, or gold colour, which does not naturally match the existing tooth.
2. PFM Crowns – Porcelain Fused to Metal (PFM) crowns utilise both the strength of a metal crown, and the aesthetics of a porcelain crown. This type of material has an inner layer of metal and an outer layer of porcelain. The downside of this material is that gum recession can lead to the metal margin of this crown becoming visible. There can also be chipping of the outer porcelain layer.
3. Porcelain/E Max Crowns – This is the most common material used in modern dentistry. This material, although not as strong as metal, can give a beautiful match with the existing teeth, and a long-term stable result if taken care of.
How Long Should My Crown Last?
If the crown is taken good care of, they can often last 10-15 years or more. To get the best result, good at-home oral hygiene is required, as long as frequent visits to your dentist at Dazzling Smiles in Lara.
How Much Does a Dental Crown Cost?
There are various factors which can affect the cost of your dental crown in Lara. Some of these factors may include:
– The position of the tooth in the mouth.
– The material used to make the crown.
– The difficulty of the crown procedure.
On average, the cost of a dental crown in Lara can range from $1,200 – $1,800.