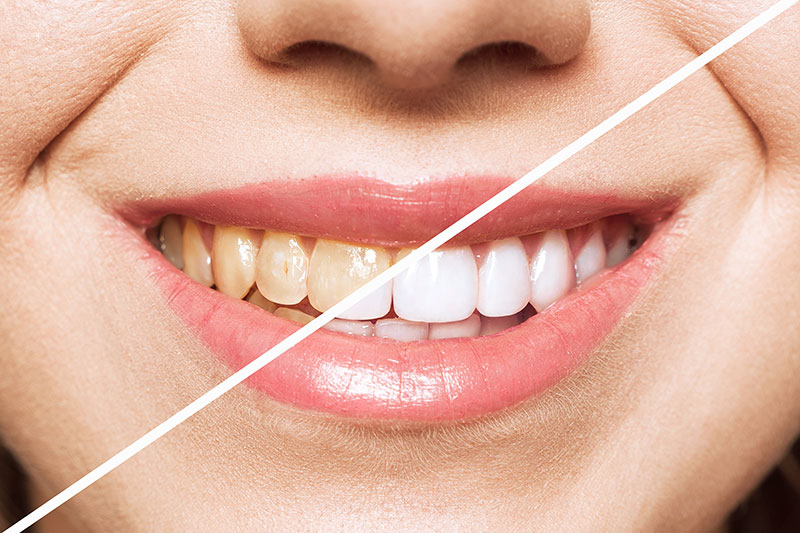 02 Aug 2022
Below are some of the Faqs of stained teeth that are answered by the Dazzling Smiles Dental Lara Dentists.
Why are my teeth stained?
There are 2 main types of staining. The first is extrinsic staining which results from outside surface staining. And the second is Intrinsic staining which results from inside staining. Extrinsic staining most commonly occurs due to improper food, drink, or cleaning habits. And Intrinsic staining can occur due to trauma, infection, or decay within the tooth. If you want to fix stained teeth book an appointment with Dazzling Smiles Dental Lara your gentle Lara dentist and we can provide you with all your options.
What foods stain my teeth?
Foods that are very dark or vivid in colour can often lead to teeth staining! These may include red sauces and curries, and certain fruits such as blueberries or raspberries. Fortunately, there are things we can do! Remember to rinse your mouth out thoroughly after eating these foods. Also, remember to visit your Lara Dentist for regular dental check-ups so we can remove any food or tartar deposits which have built up around the teeth.
What drinks stain my teeth?
Many colourful and dark-coloured drinks are common culprits when it comes to staining teeth. Colourful drinks may include red wines, or bright coloured juices. Other darker coloured drinks may include things such as black coffee and tea and coke or other sodas. Overconsumption of these drinks can stain your teeth but luckily there are some things you can do.
Drink through a straw to avoid contact with your teeth
Lessen the consumption of these drinks
Rinse out your mouth with water after drinking
Porcelain Veneers in Lara and Teeth Whitening in Lara can help whiten your darkened smile.
How can I fix stained teeth?
There are several ways to fix stained teeth.
Change in eating and drinking and lifestyle habits. This is most likely the most challenging obstacle when it comes to improving your smile. Avoiding certain foods and drinks which are brightly or darkly coloured can also help to slow down the long-term staining of your smile. Daily brushing and flossing will also help to remove bacteria and stains which can lead to tooth decay. Visiting the Dentist in Lara every 6 months allows us to do a professional gum and teeth cleaning which can also remove stubborn stains from the teeth.
Porcelain Veneers in Lara. If you are unhappy with the colour, shape or shade of your teeth, veneers in Lara are a great option. Veneers are lab-made caps that are bonded to the front surface of your teeth to give you a white bright smile. Veneers do not stain like teeth and are designed to perfectly match your smile.
Teeth Whitening. If you are happy with the overall shape of your teeth and simply want a brighter smile, then Teeth Whitening in Lara is the perfect option for you. At Dazzling Smiles Dental, we use Phillips Zoom in-office teeth whitening to brighten your smile by up to 8 shades. This is an amazing and cost-effective option which does no long-term damage to your teeth or gums.
If you require any more information regarding, yellow teeth, Teeth Whitening, Zoom Teeth whitening, Lara teeth whitening, Phillips Zoom, Tooth coloured fillings, Porcelain Veneers, we the Lara Dentists are here to help.
Please feel free to contact Dazzling Smiles Lara on 5282 2222 or contact us. Moreover, we have promotions going on too and also have various payment plans to give you maximum options for paying.